Family Reunion, Sales Pitch, Church Event? Local Company Has A Button For That
Family owned and operated in metro-Detroit since 1984, Button Specialties offers personalized badge buttons for any occasion. Whether you are running for office, planning a family reunion, or marketing a new promotion, buttons from Button Specialties can help you spread the word.
They will design your button free of charge using your phrase and logo, or you can provide them with "camera ready" artwork for a truly personalized product. (Before creating your own design please check with them about exact sizing, as the button sizes are larger than the actual print area.) Whenever possible, please place your order 3 days in advance of when you will need your buttons. Sometimes they can be flexible, though, and turn things around quicker. Let them know what you need and when you need it, and they will do their best to accommodate you.

Pricing
They offer 4 different size round buttons: 1.25", 1.75", 2.25" and 3". Completed orders can be pick up at their home office in Madison Heights, or standard shipping rates will apply. Prices are per button for the size and quantity indicated. Alos, there are no setup charges.
Quantity
1.25"
1.75"
2.25"
3.00"
3-20
2.45
2.50
2.55
2.65
21-99
.65
.70
.75
.85
100-199
.60
.65
.70
.80
200-299
.55
.60
.65
.75
300-399
.50
.55
.60
.70
400-599
.45
.50
.55
.65
600-749
.42
.45
.50
.55
750-999
.39
.42
.47
.52
1000+
.35
.38
.43
.48
Copy Size
1"
1.5"
2"
2.75"
Cut Size
1.625"
2.125"
2.625"
3.4375"
More About Button Specialties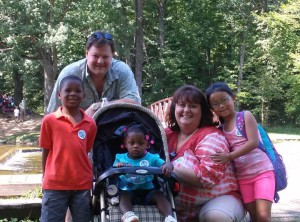 Button Specialties is a family owned business, operating in metro-Detroit for over 30 years. What started as a fun hobby making buttons for the Tiger's World Series run in 1984 quickly turned into a well-known local business. The reigns have now been passed to Keith and Anjela Freeman, who have taken over from Anjela's parents, Joe and Lorraine Antonazzo. They look forward to serving Southeast Michigan just like the Antonazzos did for the next 30 years.
How to Contact Button Specialties
You can reach Button Specialties by calling them at (248) 549-2140. You can also email them at information@mibuttons.com. If you prefer, you can also use the contact form below.